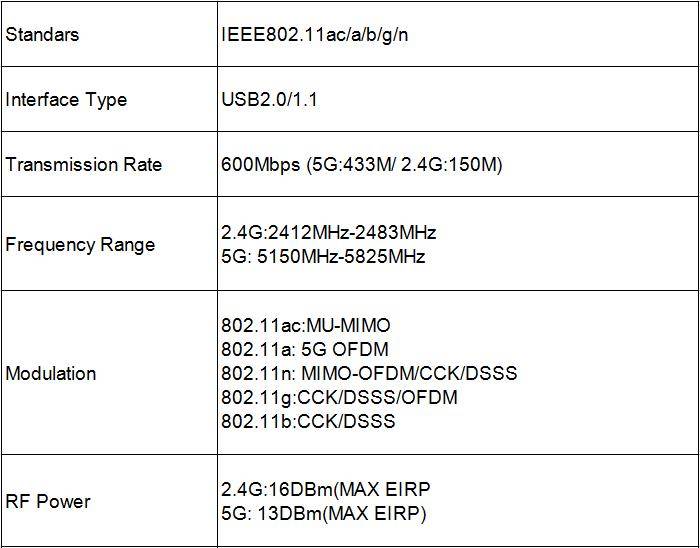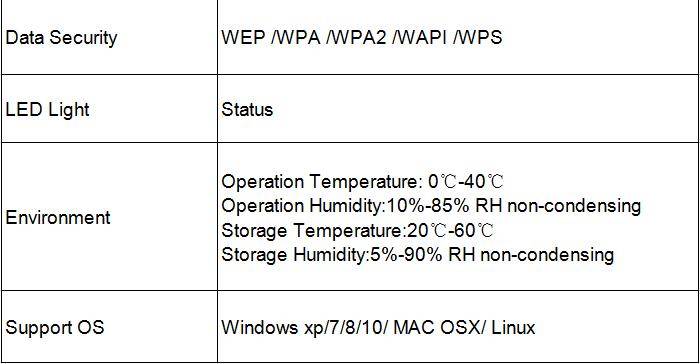 For installation information, please go to the support page.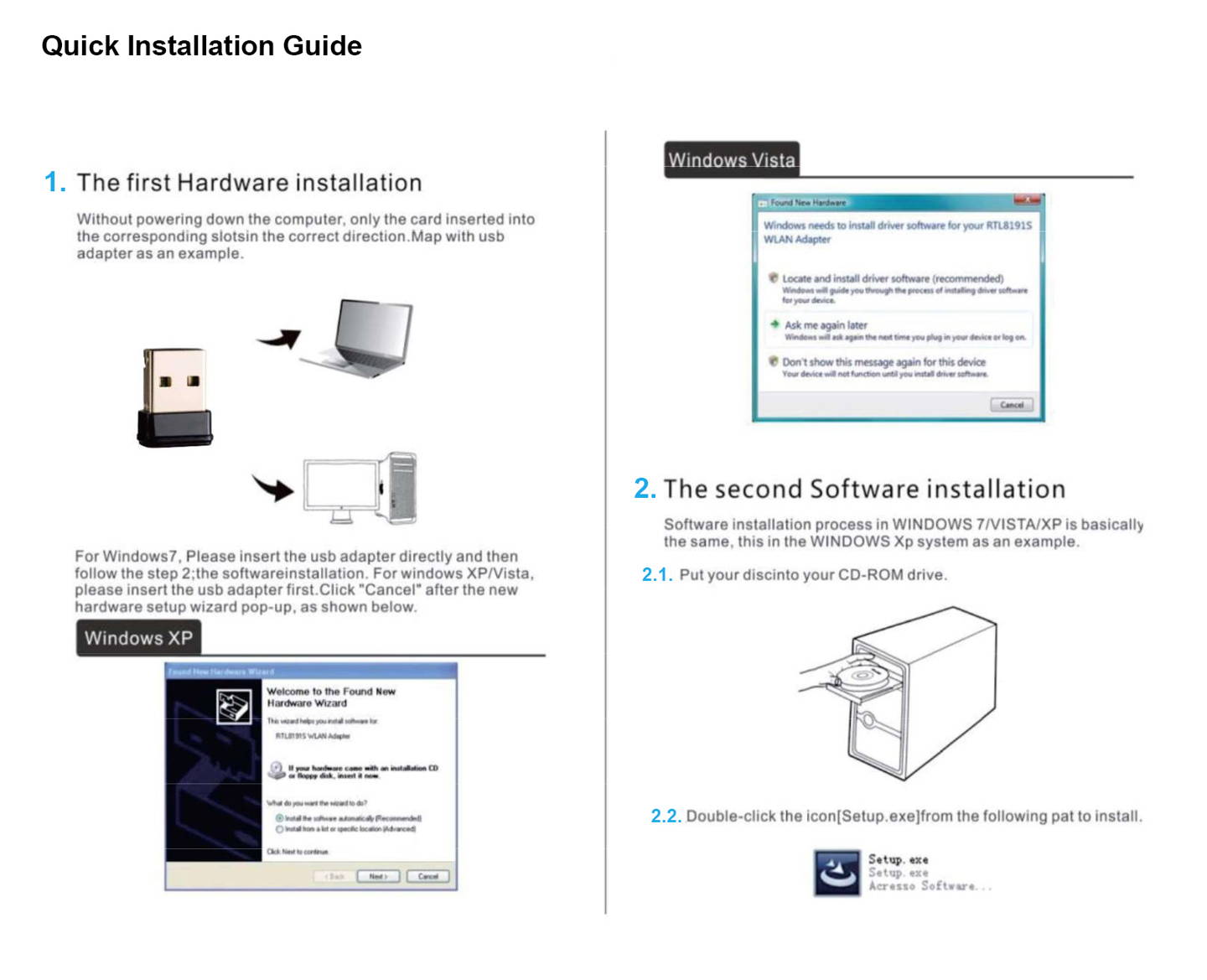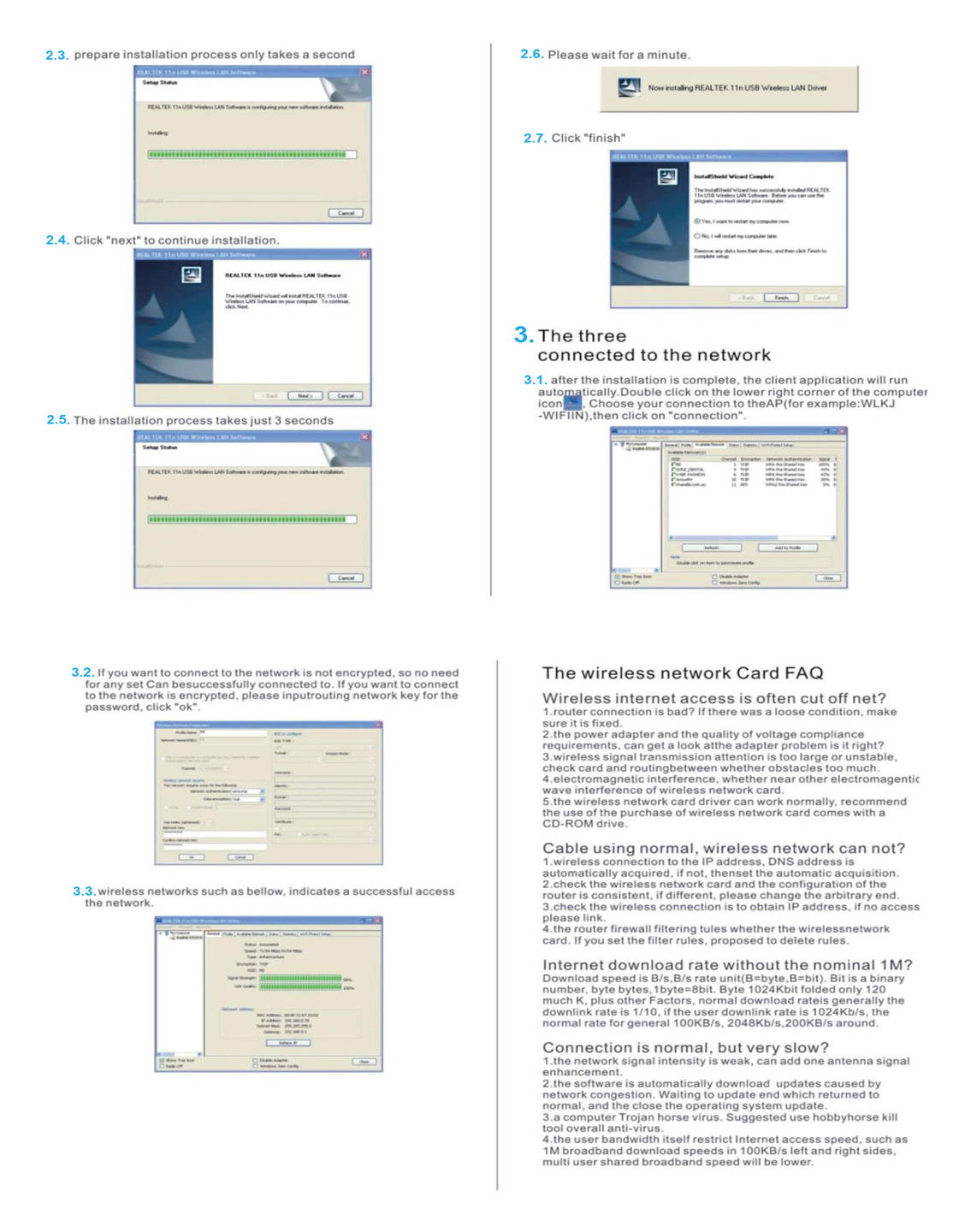 Customer questions & answers
Question: My network card on my laptop does not work so i cannot access wi-fi from it and i have no cd-rom will i still be able to install the wi-fi adapter?

Answer: Depending on your laptop operating system. I did not need the CD. Windows automatically detected and installed the device but think there is a link on internet to download the set up sent by the seller.
Question: Could I get some help, please? It detects both my wifi signals fine, but the speed is terrrrribblee! I've tried everything to fix it and cant. :(
Answer: You need to install the driver corresponding to your device to take full advantage of the product. Please refer to the product details page for the online driver download link.
Question: Is this an 'on the go - hot spot' ? thanks
Answer: No. It is a wi-fi receiver. If you have a computer without a built-in wi-fi receiver you can plug this into a usb port and once the operating system recognizes it and installs it you can use it to receive a wi-fi signal and connect the computer to the internet.
Question: What can i do if my laptop doesn't have cd drive??
Answer: dear, You can find the URL of the driver download on the third line of the Amazon details page. You can also find the download driver URL in the product manual, or you can email us. Thank you
Question: Does this support wifi direct?
Answer: I am not sure what you mean by WiFi direct. Module supports WiFi which is direct by 802.11 frequency band. No wires attached. Module is small
and can be left plugged in full time. Install is simple and quick.
Question: Will I be able to use it for my iPhone to access my mail?
Answer: It plugs into a USB port so won't plug directly in iPhone. It just receives a Wi-fi signal (if one is present) and provides access to a laptop or other computer with the right USB port.
Question: Will this work for a Xbox One?
Answer: The driver needs to install a driver to work, the wifi adapter works with system Windows: XP,Vista,Win7,Win8,Win8.1,Win10
MacOS: MacOS(10.6~10.13)Linux:Kernel 2.6.18~4.5 Android: 1.6~2.3;4.0~7.0
Question: When I put cd in it says no picture or video found will not setup
Answer: Cancel that window , go to Windows Explorer and locate the cd or dvd drive the setup cd is in. Double click on the drive letter to open the cd and look for the file that says setup or setup.exe. Double click on that file to open the setup window.
For other problems, please feel free to contact us